In Conversation with Henna Inam
"Authentic leadership is the fullest expression of me for the benefit of we."
~ Henna Inam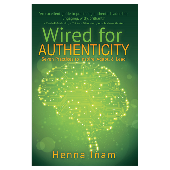 In Conversation with Henna Inam
Henna is a leadership expert, sought after speaker, and author of the book Wired for Authenticity. Her book serves as a touchstone for leaders who seek both authenticity and adaptability in a 24/7 dynamic, fast-paced workplace.
Henna founded Transformational Leadership Inc. in 2010 to help organizations develop authentic leaders who create cultures of innovation, trust, and inclusion. Her clients are Fortune 500 companies including Google, Johnson & Johnson, Pricewaterhouse Coopers (PwC), CNN, Microsoft, and Novartis.
During her 20-year corporate career, Henna led organizations as large as 600 people, including R&D and plant operations while working at Novartis and Procter & Gamble. As Chief Marketing Officer, Henna ran marketing for a $2 billion global business and as a Region President, she managed a $500 million P&L.
Henna has significant global experience, having lived or worked in seven countries across North America, Europe, Asia, and Africa. She is a frequent and well-versed speaker on leadership and a blogger for Forbes. Henna has appeared on Fox Business, NPR, and is quoted in Fortune/CNN/Money online.
Also in this issue:
+ The Evergreen Leader by John Milani
+ What Organizations Must Provide Millennial Managers by Chip Espinoza
+ Leading Without Direct Reports by John Bell
+ Leadership in a Postmodern Age by Mitch McCrimmon
+ 5 Questions Every New Leader Need to Ask Themselves by Susan Ritchie
+ The Morale Vampire: Workplace Bullying by Renée Gendron
+ Why Leadership is Like Planting an Acorn by Croft Edwards
+ Mentoring Matters with Glain Roberts-McCabe
+ Not Everyone Will Like You, but You Still Need to Be Likable by Adam Smith
+ Eight Leadership Best Practices by Anthony T. Eaton
+ Confront What Is by Jamie Notter
+ The Need to be Liked by Anthony Iannarino
+ Transformational Leadership (VIDEO) by Chris Atkinson
+ Leadership Promises (VIDEO) by Robert Murray
~ ~ ~ ~ ~
*To access this issue, you must first install the free app onto your mobile device. Just click on one of the badges above to go to the AppStore or Google Play.