In Conversation with Bill George
"True North is your most deeply held beliefs, the values you live by, and the principles you lead by. In other words, you know what your True North is, deep inside you; you might consider it your inner moral compass, the thing that keeps you pointed in the right direction."
~ Bill George

This issue of Realizing Leadership magazine is available only to subscribers
until the release of the next issue*.
In Conversation with Bill George
Bill George is professor of management practice at Harvard Business School, where he has taught leadership since 2004. He currently serves as director of ExxonMobil, Goldman Sachs, and the Mayo Clinic and also served on the board of Novartis and Target Corporation.
He is currently a trustee of the World Economic Forum USA and Guthrie Theater and a former Trustee of Carnegie Endowment for International Peace.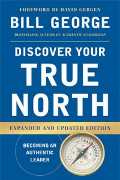 He is the former chairman and chief executive officer of Medtronic, having joined Medtronic in 1989 as president and COO, then was CEO from 1991 to 2001, and board chair from 1996 to 2002. Earlier in his career, he was a senior executive with Honeywell and Litton Industries and served in the U.S. Department of Defense.
Bill George is the author of four best-selling books: 7 Lessons for Leading in Crisis, True North, Finding Your True North, and Authentic Leadership. With co-author Doug Baker he recently published True North Groups. His newest book, Discover Your True North, was published in August, 2015.
Also in this issue:
+ Building Trust as a New Leader by Amber Lineback
+ The Intentionomics of Leadership by David Penglase
+ The Great Debate: Are Extroverts or Introverts Better Leaders? by Peter Barron Stark
+ Four Major Barriers to Standing in Your Professional Authority by Blair Glaser
+ Managing Emotions in the Workplace by Claudia St. John
+ How to be Honest by Jim Bouchard
+ Patriarchy to Partnership: Navigating Two Journeys by Bob Anderson and Bill Adams
+ Leadership Profile: Carli Kinnear with Glain Roberts-McCabe
~ ~ ~ ~ ~
*To access this issue, you must first install the free app onto your mobile device. Just click on one of the badges above to go to the AppStore or Google Play.