Patty Azzarello
Real or Imagined Power?
Patty Azzarello is an executive with more than 25 years of experience working in high tech and business. She has held leadership roles in General Management, Marketing, Software Product Development and Sales. She has been successful in running and transforming large and small businesses, and has significant international management experience.
Patty became the youngest general manager at HP at the age of 33. She ran a $1B software business at the age of 35 and became a CEO for the first time at the age of 38 (without turning into a self-centered, miserable jerk). Her prior roles have included: Vice President and General Manager of HP OpenView, Chief Marketing Officer for Siebel Systems, and President and CEO of Euclid Software.
Patty Azzarello is the founder of Azzarello Group, which works with CEOs and leadership teams to help their businesses (and people) get better at what they do. She is the author of the best selling book RISE: 3 Practical Steps to Advancing Your Career, Standing Out as a Leader (and Liking Your Life).
For more information about Patty, please go to www.AzzarelloGroup.com and follow Patty on Twitter at @pattyazzarello.
Kathleen Bartle
Handling Workplace Bullying and Abrasive Behavior in Teams: Transforming a Dysfunctional Collection of Individuals Into a Functional Team

Kathleen Bartle is a strategic consultant on workplace conflict to executives in the U.S. and worldwide. Her work helps organizations reduce the billions of dollars in workplace conflict costs. Her strategies include individualized solutions to bullying, abrasive behaviors and interpersonal conflict among employees. She is committed to the best interests of her clients and has the unique ability to determine the most cost-effective long-term solutions for each of them.
Visit Kathleen's website at www.kathleenbartle.com, her blog at KathleenBartle.com/Blog and contact her at KathleenBartle.com/Contact .
Pam Fox Rollin
Don't Plan to Show Up and Do Your Best: 6 Ways to Start Your New Leadership Role Successfully
Pam Fox Rollin is the Principal & Executive Coach at IdeaShape Leadership where she coaches executives and teams to lead even more effectively at companies throughout the San Francisco Bay Area and around the world.
Drawing on 20 years of experience in strategy consulting, management education, team building, and leadership development, Pam is known as a dynamic speaker and valuable thought-partner to people leading their organizations through complex change.
Pam is recognized internationally as an expert in using assessments including the Myers-Briggs Type Indicator® (MBTI) and various 360 feedback instruments. In 2005, she was the keynote speaker for the bi-annual conference of the Association for Psychological Type, the professional organization for Myers-Briggs. Pam facilitated for 10 years a global professional learning community for coaches who use personality type.
She is frequently invited to speak on her research into how leaders of different types develop emotional intelligence and leadership. Pam's depth in Myers-Briggs and other psychological models enables her to customize her coaching and team building for extraordinary effectiveness. Additionally, Pam co-hosts Weekly Leader, a podcast on leadership research and practice.
Pam's book, 42 Rules for Your New Leadership Role: The Manual They Didn't Hand You When You Made VP, Director, or Manager, (October 2012) made Amazon's Top 10 in Management & Leadership and is being hailed as the essential pocket guide for leaders.


Mike Myatt
12 Ways To Spot Ineffective Leadership
Widely regarded as America's Top CEO Coach, Mike Myatt is one of the world's most recognized authorities on leadership, having been consistently recognized by Thinkers50 and other organizations.
As an executive, Mike Myatt has held numerous C-suite positions, as an entrepreneur he has been a principal in four successful ventures, and as a professional advisor he has worked with clients ranging from successful CEOs and their Boards of Directors to Fortune 500 companies.
One of today's preeminent leadership thinkers, Mike is a syndicated columnist and contributing editor on topics of leadership and innovation. His theories and practices have been taught in many of America's top business schools and his work has been noted in several publications including Forbes, Psychology Today, The Washington Post, The Wall Street Journal, Entrepreneur, Chicago Sun Times, Success, Washington Times, Chief Executive Magazine and others.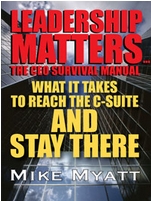 Mike Myatt is the author of Hacking Leadership and Leadership Matters… The CEO Survival Manual, a Forbes leadership columnist, and he serves as Chairman at N2growth.
Tom Northup
Closing the Gap Between Success and Significance
"Leaders achieve goals in cooperation with and through the actions of the people in their organization." This article takes a look at three main characteristics of leaders with suggestions on how to realize them in our lives.
Tom is a nationally recognized management expert, consultant, speaker and coach. As a former CEO, Tom understands the complexities faced by today's executives. He is the author of the book, The Five Hidden Mistakes CEOs Make. How to Unlock the Secrets and Drive Growth and Profitability. Go now to lmgsuccess.com or his BuildingStrongerLeadersBlog to learn more.
Mark Sanborn
Leadership is a Choice, Not a Title
Mark Sanborn, CSP, CPAE, is president of Sanborn & Associates, Inc., an idea studio dedicated to developing leaders in business and in life. Mark is an international bestselling author and noted authority on leadership, team building, customer service and change.
Mark is the author of eight books, including the bestseller The Fred Factor: How Passion In Your Work and Life Can Turn the Ordinary Into the Extraordinary which has sold more than 2 million copies internationally. His other books include You Don't Need a Title to be a Leader: How Anyone, Anywhere Can Make a Positive Difference,
Teambuilt: Making Teamwork Work, The Encore Effect: How to Achieve Remarkable Performance in Anything You Do and his most recent book, Up, Down or Sideways: How to Succeed When Times are Good, Bad or In Between.
He has created and appeared in 20 videos and numerous audio training programs. His video series Team Building: How to Motivate and Manage People
made it to the #2 spot for bestselling educational video series in the USA.
Mark's list of over 2400 clients includes Costco, Enterprise Rent-a-Car, FedEx, Harley-Davidson, Hewlett Packard, Cisco, KPMG, Morton's of Chicago, New York Life, RE/MAX, ServiceMaster, ESPN, GM, IBM, Avnet, Sandvik and John Deere.