In Conversation with Jesse Lyn Stoner: Leading Vision
"Vision is knowing who you are, where you're going and what will guide your journey."
~ Jesse Lyn Stoner
To purchase, you must first install the free app onto your mobile device. Just click on one of the badges above to go to the Apple App Store or Google Play. Once the app is installed, you'll have the options to purchase this issue and become a monthly subscriber.
In Conversation with Jesse Lyn Stoner
Jesse is the founder of Seapoint Center and she has worked closely with leaders for over twenty-five years, helping them create collaborative, engaged organizations that make a powerful and positive impact on the world.
A business consultant, coach, former executive, and bestselling author, Jesse has worked in a wide range of industries including Fortune 500s, small start-ups, government agencies, and nonprofits. Jesse is co-author, with Ken Blanchard, of the international bestseller Full Steam Ahead! Unleash the Power of Vision which has been translated into twenty-two languages. She is also co-author of Leading at a Higher Level with Ken Blanchard et.al. and, as a senior consultant at The Ken Blanchard Companies, created many of the programs and materials in team and organization development.
Jesse's first experience with the power of vision took place in a fifth grade classroom, where she taught reading to children with learning disabilities. One day it occurred to her that the children had experienced so many years of failure, they probably couldn't imagine themselves reading a book. Using mental imagery techniques, she had the children visualize themselves reading. That year, the children made more progress and were happier than any previous class.
Intrigued by the children's success, Jesse went on to study the impact of vision in other settings. She wrote her doctoral dissertation on vision and leadership, identifying the three elements of an enduring vision. She then went on to develop practical ways to help leaders create a compelling vision and ensure it is lived.
Since then, Jesse has supported leaders in clarifying their vision, developing collaborative leadership skills and building high performance teams.

Nancy Daniels
Horrified by What Comes Out of Your Mouth When You're Nervous?

The Voice Lady Nancy Daniels offers private, corporate and group workshops in voice and presentation skills as well as Voicing It!, the only video training program on voice improvement. Get started improving your presentation skills using Nancy's free eBook, The #1 Secret for Improving Your Speaking Voice. To discover the best means of adding some life to your voice and your delivery, watch a brief video as The Voice Lady describes Dynamic Public Speaking and visit her website, VoiceDynamic.com, for more information and resources to enhance your speaking skills.
Doug Dickerson
The Human Touch Makes the Difference
Doug Dickerson
is an internationally recognized leadership speaker, author, and columnist. He is the author of the books, Leaders Without Borders and Great Leaders Wanted. He is a contributor to various newspapers, magazines, and business journals on the topic of leadership. To learn more visit DougsManagementMoment.blogspot.com or visit DougDickerson.Wordpress.com and follow him on Twitter @managemntmoment.
Mike Hawkins
The Value of a Question

Mike Hawkins is the award.winning author of Activating Your Ambition: A Guide to Coaching the Best Out of Yourself and Others, author of the SCOPE of Leadership six-book series on coaching leaders to lead as coaches, and President of Alpine Link Corporation. Mike coaches, consults, and trains organizations and individuals to higher levels of performance. He is a seasoned executive coach, management consultant, author, speaker, and college lecturer. He is considered an industry thought leader on leadership, consultative selling, self-improvement, and business management.
Fraser Marlow
Don't Panic! Why leaders stay calm – and keep others calm – under pressure
Fraser Marlow is the Head of Marketing and Research at BlessingWhite, A Division of GP Strategies.
He is the author of many of BlessingWhite's research reports and articles on employee engagement and effective leadership. He is the co-author of The Engagement Equation (Wiley 2012). Fraser grew up in France and holds a business degree from the University of Bradford School of Management in the UK. Prior to joining BlessingWhite, Fraser was Head of eCommerce at GE Healthcare's Life Sciences division. Lessons from Neuroscience research are built into many BlessingWhite programs, most recently Leading Out Loud, Emotional Intelligence, and Leading Technical Professionals+.
Susan Mazza
Are You Creating a "Safe to Say" Environment?
A catalyst for conversations that matter, relationships that work and results that inspire, Susan Mazza serves leaders and their organizations as a Leadership Coach, Change Agent and Motivational Speaker. Named one of the Top 100 Thought Leaders by Trust Across America in 2013, she is known for her ability to bring clarity to complex issues, as well as transform theory and ideas into effective action and results.
With a passion for unleashing the human spirit at work, Susan has cultivated a culture of leadership and accountability in organizations around the world. As a master facilitator, she also has extensive experience transforming dysfunctional groups into collaborative teams.
One of the founding Members of The Lead Change Group, a non-profit, global leadership community, Susan also co-authored The Character-Based Leader: Instigating a Revolution of Leadership One Person at a Time.
With her unique understanding of human systems, she has worked successfully with many types and sizes of organizations and with people around the world including: Fortune 500, small- and medium-sized businesses, non-profits as well as K-12 schools and their districts. Her clients include: Prudential Financial, Tyco, AT&T, Sedgwick Claims Management Services, Lucent Technologies, The Morristown Partnership and The Cloud Institute for Sustainability Education. Susan also actively supports the Women's Business Center at FIT.
To learn more about Susan, go to her website at RandomActsOfLeadership.com. She can be reached via e-mail at Susan@RandomActsOfLeadership.com or by phone at (772) 539-7003. Follow Susan on Twitter @SusanMazza and on Facebook: Random-Acts-of-Leadership.
Sherri Petro
React or Respond? For Goodness Sake, Choose Respond!
Sherri Petro is President of VPI Strategies, a California Miramar University (CMU) Professor, a member of the ManagingAmericans.com Expert Panel as well as an accomplished strategist, organizational development professional and executive coach. She consulted for thirteen years in the for-profit, non-profit, and government sectors after a sixteen year corporate career. Sherri teaches the Strategy Capstone as well as Leadership, Change Management and Business Ethics courses in CMU's MBA program. Her current passion is educating organizations on how to increase organizational sustainability by leveraging the talents and skills of all in multi-generational workplaces. Sherri offers remedies to misunderstandings that result from different belief structures and lack of coherent communication by creating understanding and making connections at the belief level not only at the behavioral level.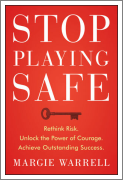 Margie Warrell
Avoiding a Difficult Conversation?
Seven keys to speaking up about things that weigh you down
Margie Warrell is a leadership coach, keynote speaker and the best-selling author of Stop Playing Safe and Find Your Courage. Connect on Facebook and Twitter @MargieWarrell.
Doug Williamson
The Devastating Cost of Bias in Leadership
Doug Williamson is President and CEO of The Beacon Group and author of the book Straight Talk on Leadership. He specializes in organizational and leadership transformation, working with senior executives, their teams and their organizations around the world. Visit Doug's web site: DougWilliamson.ca.