In Conversation with Linda Fisher Thornton:
Leadership Ethics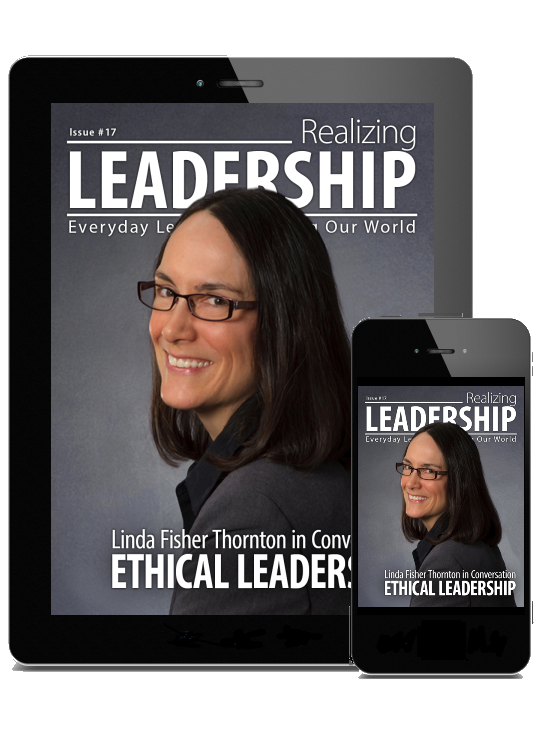 "My research reveals that ethical leadership is multi-dimensional, that there are more aspects of it than just one or two things and we can't tell people, "Just do the right thing and you'll be fine" because "do the right thing" can mean so many things to so many different people."
~ Linda Fisher Thornton

To purchase, you must first install the free app onto your mobile device. Just click on one of the badges above to go to the Apple App Store or Google Play. Once the app is installed, you'll have the options to purchase this issue and become a monthly subscriber.
Linda Fisher Thornton
In Conversation with Linda Fisher Thornton: Ethical Leadership

Linda Fisher Thornton helps organizations Unleash the Positive Power of Ethical Leadership.™ She is one of the 2014 Top 100 Thought Leaders in Trustworthy Business Behavior and author of 7 Lenses: Learning the Principles and Practices of Ethical Leadership. She speaks and writes about the future of ethical leadership and consults with businesses about how to bring out the best in people and organizations through proactive ethical leadership. Learn more about Linda at her Leading in Context website and connect with her on Twitter @LeadingInContxt and @7Lenses and on the Leading in Context Blog.
Sarah Bridges, PhD
Unconscious Bias and Succession Management
Sarah Bridges is an executive coach and consultant, speaker and thought leader on managing people. She brings a clear-minded, highly engaged, and individualized approach to all her work, whether she's coaching executives one-on-one, dealing with large-scale organization strategies, or keynoting a conference. She is also a writer who brings her interest in psychology and human development to her investigative articles, personal essays and advocacy work.
Sarah Bridges earned a Ph.D. and post-doctoral fellowship in neuropsychology in 1995 and then joined Personnel Decisions International as an organizational psychologist. She founded her own consulting company in 2001. Her biography and consulting information may be found at SarahBridges.com.
Deb Calvert
Leadership Presence: Three Behaviors People Gravitate Toward
Deb Calvert is President of People First Productivity Solutions, author of the DISCOVER Questions book series and a member of the Expert Panel at ManagingAmericans.com. Deb has worked as a sales productivity specialist and sales researcher since 2000. She is certified as a Master Sales Coach, Master Trainer, and host of CONNECT! an online radio show for selling professionals where listeners ignite their selling power in just an hour. Deb helps companies to boost productivity through people development. This work includes leadership program design and facilitation, strategic planning with executive teams, team effectiveness work, and performance management program design.

Nancy Daniels
How to Connect with Your Audience in Public Speaking

The Voice Lady Nancy Daniels offers private, corporate and group workshops in voice and presentation skills as well as Voicing It!, the only video training program on voice improvement. Get started improving your presentation skills using Nancy's free eBook, The #1 Secret for Improving Your Speaking Voice. To discover the best means of adding some life to your voice and your delivery, watch a brief video as The Voice Lady describes Dynamic Public Speaking and visit her website, VoiceDynamic.com, for more information and resources to enhance your speaking skills.
Doug Dickerson
Four Things You Will Never Learn in Your Comfort Zone
Doug Dickerson
is an internationally recognized leadership speaker, author, and columnist. He is the author of the books, Leaders Without Borders and Great Leaders Wanted. He is a contributor to various newspapers, magazines, and business journals on the topic of leadership. To learn more visit DougsManagementMoment.blogspot.com or visit DougDickerson.Wordpress.com and follow him on Twitter @managemntmoment.
Kyle Dover
Stop Talking in Code – Start Improving Performance
Kyle Dover is a founding partner in Teleos Consulting. He focuses on helping leaders build top talent, align talent with strategy, and learn and apply skills needed to optimize performance. He has a special interest in helping leaders develop and apply strategic perspective and influence skills.
Kyle developed Teleos methods to clarify organization purpose, align performance and talent management systems, and develop collaborative leadership skills throughout an organization. He conceived and executed unique training programs for collaboration, performance management, influence, conflict resolution, and managerial coaching. Kyle also developed a new theory and methods that enable organizations to assess for, select, and develop strategic perspective and skills.
Some of Kyle's recent clients include Pfizer, AstraZeneca, Sapient Nitro, MetLife, Rolls-Royce, Merck, Dana, Medco, and G.E. Aircraft Engines. Kyle served as a consultant on the nationally-recognized General Electric WorkOut and Change Acceleration programs, which transformed the G.E. culture to create fast, flexible, and high performing organizations.
Kyle holds a B.S. in Education and a Master's in Human Resource Management and Organization Development from Ohio State University. Connect with Kyle on Twitter @Kyle_Dover.
David M. Dye

Six Ways Not to Walk Naked Down the Street
David works with leaders who want to get more done with engaged teams. He shares twenty years' wisdom earned as an elected official, nonprofit executive, and volunteer leader. He is the author of The Seven Things Your Team Needs to Hear You Say, regularly speaks and writes about effective leadership, and believes everyone can master the essentials of influence.
Connect with David today via Twitter, the Trailblaze Blog, LinkedIn, Facebook, or Google+.
Randy Hall
Bad Leadership Works
Randy Hall has worked with organizations of all sizes, from Fortune 25 businesses to small and midsize organizations, to help them effectively execute change, develop leaders, engage employees, and reach their full potential as a business. He serves as a consultant, coach, and facilitator to help companies lead change and build organizations that engage employees, dramatically improve results, and sustain growth.
Randy leverages his sales, sales management and executive level experience to ensure that real-world change happens for 4th Gear Consulting's clients. He has created learning opportunities and developmental initiatives that enable leaders and managers to build and sustain high-performing teams and help capable individuals reach their full potential. Randy has directly coached CEOs and senior leaders in ways that cause them to shift their perspective, consider new approaches, and ultimately become significantly more effective at leading people, teams, and businesses.
In roles such as Senior Vice President, Learning and Leadership Development at Bank of America and Global Director of Learning and Development at Pfizer, Randy has orchestrated and facilitated changes within companies. He now helps this happen for each and every client that engages 4th Gear Consulting.
Jon Mertz
The Unfortunate "Nature" of Leadership
Jon Mertz is one of the 2014 Top 100 Thought Leaders in Trustworthy Business and is a leadership populist, writing to empower Millennial leaders. When we share experiences rather than focus on differences, we realize a thin difference between two generations and a vast opportunity exists to create a big leadership story. Jon's experiences come from his role as vice president of marketing and working at Deloitte, IBM, BMC Software, and other entrepreneurial companies.
Connect with Jon through his website, ThinDifference.com, via Twitter @ThinDifference and the ThinDifferece Facebook page.